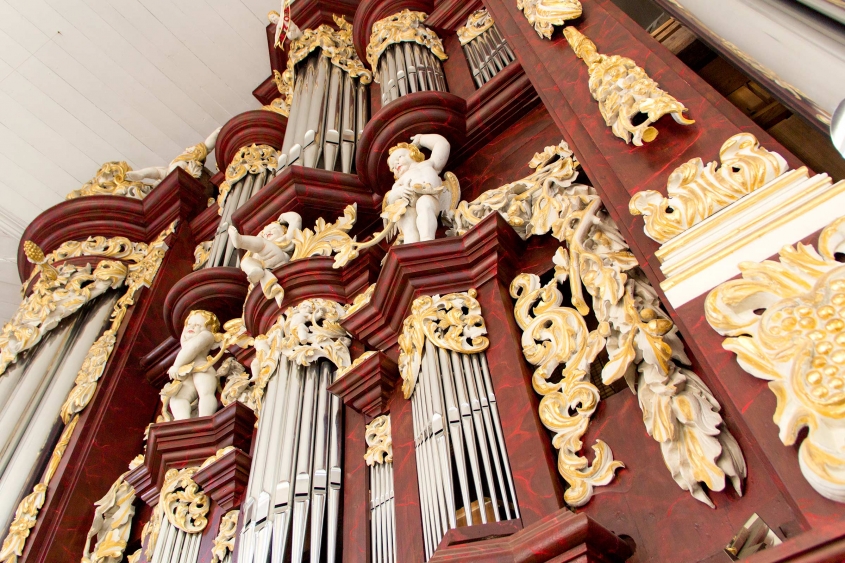 Sonus Paradisi Sonus Paradisi - Hrade Kralove, Maria Sample Set
Description
The Jesuit church of the Assumption of the Blessed Virgina Mary  in Hradec Králové (East Bohemia) was erected between 1654-1666 by Carlo Lurago,  the Jesuit prominent builder of the time. In 1765 it burned down, and was  renovated by F. Kermer. At this occasion, it was furnished with a new organ by  Josef Streussel (1732-1776), a proliferous organbuilder of the Králíky school.  Unfortunately, almost none of his instruments survived until present.
In accordance with the Jesuit fashion of the time, the  architecture of the organ makes use of the illusive technique of 3D painting on  a flat wood. Today, this special technique is the distinctive feature of this  particular instrument. The organ is designed typically for the Králíky school,  the left case is occupied by Hauptwerk (lower manual), the right case hosts the  pedal and the middle case is the positiv organ (upper manual) in the ballustrade. The C# side of Hauptwerk was virtually moved into the right case, to give balanced stereo image when played back through speakers or headphones.
The organ was changed several times in the course of the history,  the last overhaul by Ivan Červenka in 1999 brought back the typical Czech  baroque sound timbre, although some of the non original ranks were retained (the  Gamba, the Salicional) to broaden the registration possibilities of the  instrument.
1.    Manual C–c3    
Principal8′
Flauta8′
Viola8′
Gamba8′
Octava4′
Quinta3′
Octava2′
Rauchquint 2x 
Mixtura3x
Cimbel5x
2.         Manual C–c3          
Copula major8′
Salicional8′
Copula minor4′
Principal4′
Superoctav2′
Mixtura3x
Pedal C–a          
Subbass offen16′
Octavbas8′
Principalbas8′
Principalbas4′
Quintbas6′ 
Cornetbas3x
Couplers:
Normal: II/I, I-P
many other couplers possible via Hauptwerk Master Couplers.
Do you want to see this product in our showroom?
Simply fill out this form and we will contact you to arrange an appointment!

Qualité garantie
on all our services

Secure payments
For all transactions

Large stock available
At Romont and Fully