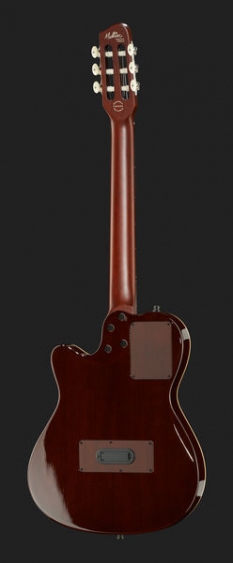 Guitares Godin MultiAC Grand Concert Duet Ambiance
Description
Guitare classique-électrique Godin MultiAc
La Multiac Grand Concert Duet Ambiance est équipée d'électronique Fishman à la fine pointe de la technologie, ce qui permet au guitariste de sélectionner parmis 4 réglages individuels de micros. Choisissez parmis les 4 micros d'imagerie sonore par l'entremise du sélecteur à 4 positions.
Semblablement aux autres modèles Multiac Grand Concert, le design de la guitare relie une large caisse, possédant une table d'harmonie en cèdre massif, au manche à la 12ème frette. Le sillet de tête de 5.08 cm est un peu plus large que celui de la Multiac traditionnelle et plus typique d'une guitare classique conventionnelle. Le tout résulte en une guitare pour guitaristes classiques plus traditionnels qui recherchent un son amplifié
Fabriquée au Canada
avec housse
Do you want to see this product in our showroom?
Simply fill out this form and we will contact you to arrange an appointment!

Qualité garantie
on all our services

Secure payments
For all transactions

Large stock available
At Romont and Fully